I got to sub today. I taught elementary school special ed. Cute kids. Although one of them looked just like Victor from Family Guy: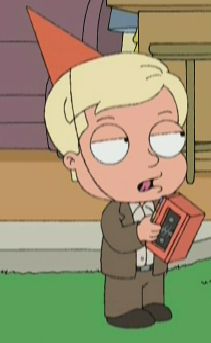 He was creepy.
So this school has a big room that's a combo work room/staff room. It's like the combohole of classrooms. There's a woman that has her own desk there. I'm not sure what she does exactly, but there she is. She's older, probably early 60s. When she saw me come in today, she looked right at me and said, with a smile, "two fried eggs." Bwa? Bear in mind, I was not eating eggs. I was carrying a travel mug of hot chocolate , which is similar, but there weren't eggs anywhere. She tells me that being flat chested is like having two fried eggs on your chest. Her husband once gave her a t-shirt with a picture of two fried eggs right at chest level. She was not amused.
And a good morning to you, too.
As far as I can tell, I didn't walk into the middle of a conversation. I'm thinking she may have looked at me and immediately decided she should comment on my chest. Which is… well, coming from an old woman, sort of horrible, sort of hilarious. I did have a bulky sweater on today, but I'm pretty sure I at least have SOMETHING in there. I realize there's such thing as boobs so big it's the first thing you notice, but so small? Looks like I'll be using my sub pay to get implants.
You be the judge. I'm in PJs and no bra.
They're not much, but they're SOMETHING. My projectile ribs don't help this situation. It's like I have 4 tiny boobs. Even at my heaviest (Calculating for how much my old scale underweighed, I may have bee ~150 at 5'2") you could still count my ribs. I'm built strangely.
Should the human body even do that?